Crossley Quarry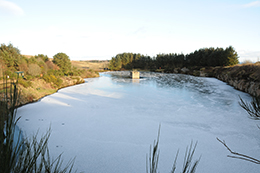 Thanks to the superb foresight of a couple of clubmen back in June 1965, including Doug Yeoman, this former hilltop sandstone quarry (which had become flooded after blasting had opened up a strong freshwater spring, thus ending its commercial viability) was bought by the SDAA.
Courtesy of years of hard work by various folk, in particular the long serving Robbie Souter, it has now been transformed into an attractive and productive stillwater fishery, with shelterbelt trees, shrubs, huts, lifebelts, platforms and seating, and provides an exciting mix of low level and clifftop fishing.
Stocked regularly each year with Rainbow Trout and Blue Trout, it also has a small residual population of big crafty browns. Whilst the permitted daily creel is one fish as per Allochie (see above), most members prefer to fish on an unlimited catch-and-release basis. It is strictly fly-only, and both imitative flies and fly lures are permitted. As at Allochie, the club prefers its anglers to use barbless or crimp-barbed fly hooks.
This fishery is also blessed by occasional visits from an Otter which probably travels from the reasonably nearby Crynoch Burn, a tributary of the mighty River Dee. It would be a poor show indeed if we could not sacrifice a few occasional trout at both Crossley and Allochie, in return for viewing these wonderful animals at work and play.
Crossley is presently looked after by Jim Michie and Ian Laird(Juniors). Ian, now takes charge of the highly organised regular annual restocking of both stillwaters.