The Upper Section of the River Bervie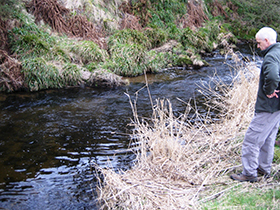 We lease the Crown Estate fishings on both banks from its source near Hill of Gothie at MR 674827, downstream for about four miles through Glenfarquhar to the lower boundary fence of Milton of Dellavaird Farm at MR 737814. From there downstream, we have the left (north) bank fishing only, for a further 600 yards, downstream to the confluence of the Burn of Guinea at MR 746813, an excellent spawning tributary. The current convenor is Fred Welsh.
This stretch has long been regarded as rather barren and hardly worth a visit, but we are developing plans to improve its fishing potential.